Orphanage & School - Established in 1936
Who We Are | How You Can Support Us | What Our Donors Say | Contact

Thanks to you Generous Donors, We Are Progressing.
This Webpage is set-up to keep our Donors informed of our progress.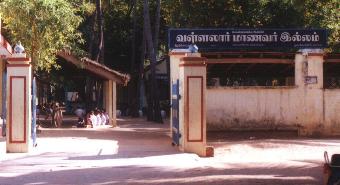 The Ashram was established in 1936. Thanks to generous public and government support, we have grown over the years. We run the following institutions:
Vallalar Maanavar Illam (Orphanage)
Vallalar Baalar School (Kindergarten)
Vallalar Primary School
Vallalar Higher Secondary School (High & Junior College)
Vallalar Computer Centre
Vallalar School for the Integrated Education of the Blind
Jain Hospital
Contact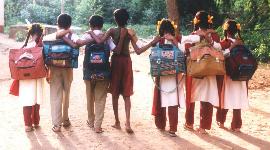 N. Ramadoss Anna
Sri Shanmugananda Ashram
Sri Kodeeswarar South, East Kottaiyur
KUMBAKONAM 612 002
Tamilnadu, INDIA
Phone: (91) (435) 242 2655

vallalar1_kmb@yahoo.com
All acts of kindness are wonderful. We feel good when we give something to others and help and help them reach their full potential in life. Our rewards are the warm feelings that touch our heart.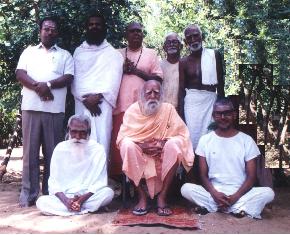 In 1936, Thavathiru Ramadass Anna, front row left sitting on the ground, and Thiru M S Pichaimuthu established Sri Shanmugananda Ashram on the banks of Cauvery River. These golden hearted devotees of Vallalar provided food, a place to stay and quality education to orphan boys in the area so as to bring them up as valuable citizens.
In 1954 Thirumuruga Kripananda Variar formally opened the orphanage. When they were short of place, Thiru Kodumudi Sengoda Gounder bought and donated the present place in East Kottaiyur on the banks of the Cauvery River. In addition he contributed valuable time and effort as the president of the Ashram.
In 1963, a Primary School was opened to provide basic education to the orphan boys and the neighbourhood poor children. It slowly grew into a Middle School. In 1981, with the blessings of Thavathiru Motaji and generous support of his devotee Thiru Hasmukhlal Gopaldas Mehta the High School was added. In 1980, a Kindergarten school was opened to teach English and Hindi to the neighbourhood children.
In 1993- 94 a School for Blind Children was opened to teach them technical skills and music. In 1994, Thiru L Mangilal Jain bought and donated adjoining land to move the Primary School to a larger place.
Return To Top
Our children
Today there are about 100 orphan boys in the Illam. We provide them food, dress, shelter, education, books etc and bring them up as model citizens. There are about 3300 pupils studying in the educational institutions and they are mainly from villages. There are about 35 blind boys. As the school is located in a poor neighbourhood, our services benefit the socially weaker section of the society and act as a catalyst in their development.
Support
We have no permanent income or asset to run all the institutions. We receive regular financial support from the Government of Tamilnadu. As usual, there is always a gap between the government support and actual expenses, which is generously met by public. The local community and a number of well wishers in Singapore, Brunei and USA provide us regular support.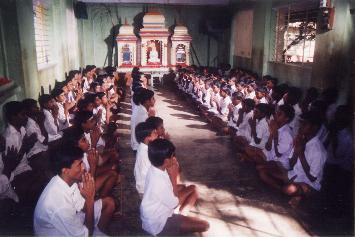 You can support us by any means you wish. People usually donate money to provide food to Ashram children on days special to them.
birthday of their children, spouse and other loved ones
marriage anniversaries
in memory of their loved ones
On that day we pray for the welfare of the donor and family and provide food to Ashram children. Typical daily expenses for 100 children are:
Breakfast US$ 20; Lunch or Dinner US $ 30; Full day US $ 50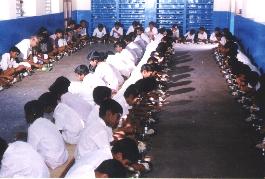 Most of the donors provide $ 50 - 60 every year. Some make a one-off donation of $ 500 - 600 to be put in a bank deposit and make use of its annual interest. Others have donated $ 1,000 - 2,500 to build/ upgrade kitchen, provide ceiling fans in the dormitory or build a classroom in memory of their loved ones. Some have donated $ 100, 000 over the years to build the school and hospital.
No donation is too small. Every drop counts. It is not the money alone that matters to us most, but the message that comes with it. "Someone, somewhere cares and is pitching in our efforts to keep our place going." It is magical, giving a warm feeling to the receiver and the giver. It is like 'a pat in the back' to our team of staff and teachers and help them to reach higher and farther in their work.
Ours is a Public Charitable Trust. Regd No: 12/59
Government of India has exempted the donations from Income Tax under sec 80G. Return To Top
"Our children are glad to know that 100 other children are joining them in celebrating their birthdays. They insist that we send you the money promptly every year. I am glad their heart has opened up at such an young age and THAT's worth a lot more than the small amount we donate."
"We are glad to join your efforts to help the needy to have a roof over their head, food in their stomach and education for their future. Our sincere appreciation of the good work you do."
"When I started my donation 5 years back, I thought it is yet another Institution. But I sincerely appreciate the prompt acknowledgement, a second intimation after providing meals on the nominated days and annual New Year Greetings with photos showing progress. I see a lot of devotion and dedication here."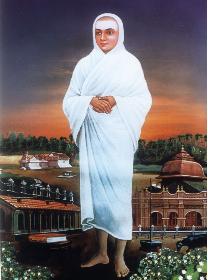 Vallalar

"Arutperumjothi! &nbsp&nbsp Thanipperumkarunai!&nbsp&nbsp Yella Uyirkulam Inbutru Vazhga!"

Saint Ramalinga Thiruvarutprakasa Vallalar, popularly known as Vallalar (meaning Philanthropist) preached kindness towards all living things, especially animals. 'Let all live in happiness' was his creed.

Though not related to us, there are a number of organisations devoted to Vallalar and his cause, helping humanity wherever they are located. You may search in Yahoo <Vallalar>. The site

www.vallalar.org provides more information about Vallalar.

Who We Are | How You Can Support Us | What Our Donors Say | Contact | Return To Top